Now that we have our own website we can host our monthly top 15 galleries ourselves.
First though, big thanks to Trade Risk for hosting our galleries over the last few months.  Cheers boys!
So here they are.  The top 15 most liked photos and videos from our Tradie Mayhem Facebook page for January 2017.
---
15.
"Thanks Casey!"
Top comment: "Introducing the all new 2017 jack off hammer."
---
14.
"An ad for a handyman…  Thanks Joel!"
Top comment: "Is that a deck or a pallet?"
Runner up: "That's a cattle grid"
---
13.
"Sheet was damaged… Plasterer just decided to use it anyway
. Thanks Rhys!"
Top comment: "Its a garage wall . No one is going to call a delivery in for 1 sheet .$20 says the garage wasnt ready sheet sat there forever"
---
12.
"
 Thanks Wayne!"
Top comment: "Easy way to fill pool after the poor just smash the pipe. Hahahaha"
---
11.
"
 Thanks Bradly!"
Top comment: "Ahh, I see now, the trap cuts through the T bars of the suspended ceiling and the light is used to reinforce the weakened T bars very clever builder, that's called value adding."
---
10.
"
 Thanks Trent!"
Top comment: "The worst thing is that the things posted here are bad but its what the industry has become everyone wants shit done cheap and fast but then cry when it looks fucked. If u wanna pay peanuts well fuck what do u expect! Builders rushings and cutting corners. I dont believe in unions only because of my experiences with them. But the industry really needs to change!!!"
---
9.
"Know anyone who needs this?
 Thanks Fady!"
Top comment: "Anyone going for a job should be shown this photo and told that you aren't being paid to be on social media all day and this will be the consequence."
---
Advertisement
---
8.
"Safe as… Thanks Freddy!"
Top comment: "It's wankers like this that make the building game continue to be unsafe. Stop being a hero. The builder has to pay for safety, they don't care about you"
---
7.
"
 Thanks Daniel!"
Top comment: "It ain't a job site till there is a cock n balls drawn"
---
6.
"🚑 🏥 Thanks Simon!"
Top comment: "That is completely inappropriate and unsafe. It should have a 20mm extension to pack it out from the handle, then she'll be right, mate."
---
5.
"Thanks Justin!"
Top comment: "Lol not even uncommon, every single plantroom floor waste I've seen is the highest point in the plantroom
"
---
4.
"
 Thanks Allan!"
Top comment: "for that perfect beading line….., or putting glue on form a mile away"
---
Want one of these awesome stickers for your ute or toolbox?
We'll send you one anywhere in Australia for just five bucks!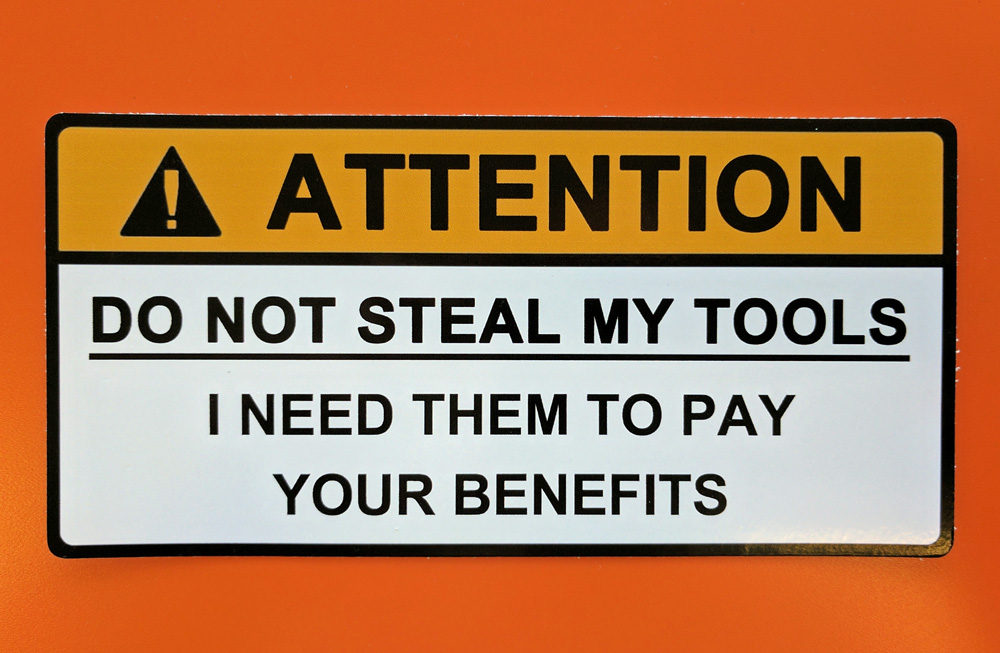 ---
3.
"Classic sparky"
 Thanks Jordan!"
Top comment: "typical sparkys. Heaven forbid the extras bill if he had to move the cup
"
---
2.
"At what point do you stop???
 Thanks Shane!"
Top comment: "I'm starting to think tradies do this shit on purpose, just to post the photo's on pages like this."
---
1.
"Great advice!  Thanks Nick."
Top comment: "Nah this is just a case of wrong door wrong jamb. No chippy in his right mind would cut a lock into a door without it being hung, no chippy would allow a door to get painted without it being hung first.  Unless of course they're gunning for the shittest tradie of the year award…then carry on."
---
We hope you enjoyed the top tradie photos for the month!
If you have any of your own, make sure you send them through to the Facebook page.